We're learning superheros at heart!

We're an Australian-based company made up of a diverse team of learning and business
consultants, developers, IT and AV professionals, designers, and marketers who passionately
believe knowledge can change lives.

Since 2009, we've helped our clients improve their organisations' business outcomes and learner experiences by keeping their learners engaged and learning administrators supported through our learning intelligence platform and range of services.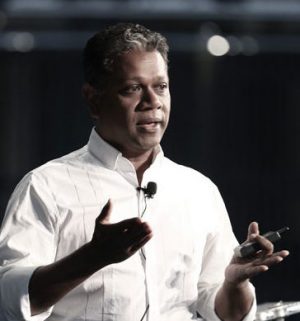 Dr Pramodh Nathaniel
Founder & Managing Director
Our Story
Pramodh started his professional life as a doctor, traversing a very non-conventional path through medicine and finding himself working in International Aeromedical Retrievals, Travel and Tropical Medicine, and Emergency Medicine. This journey culminated at the world's largest medical assistance and retrieval company, International SOS, where he was the Regional Deputy Medical Director; managing life-saving and life-changing arrangements on a global scale.

As a doctor and senior healthcare executive, Pramodh saw lives transformed first-hand with access to the highest quality medical care. He soon realised that this level of care was only available to those who could afford it and the footprint and impact he and his teams left behind had much too small a reach to make a real difference in the world.

Pramodh sought to create an ethical means to better educate healthcare professionals globally so that they could in turn make a bigger impact in the communities they serve with their knowledge and skills. He envisioned developing a single online education ecosystem where the best education in the world could be created, curated, consolidated and measured, easily and efficiently, and across all learning types. He wanted to use technology to enable healthcare professionals to make better decisions, not to replace them.

Matrix Health was started to support this vision, and the team soon realised that this platform could similarly serve to educate in the same way across all industries. Matrix Health evolved over time and we now serve our clients as ascending.